Facebook's F8 conference took place over the past two days in Fort Mason, San Francisco and while many developers, marketers and publishers would have loved to catch the latest announcements from Facebook live we know that wasn't possible for everyone, so we watched it for you. 
Facebook's F8 hosted about 2,600 people, from 83 different countries, with a live stream and an additional 30 meet ups taking place from Tokyo to New York all coming together to see what was going to be announced during their 40 sessions that will guide us through the next year.
Throughout watching F8 I was amazed by just how much of life is about to happen within Facebook. From financial transactions and business communication on Messenger, live streaming personal moments and experiencing events through Live, to being able to store it all in Facebook from content across the web with the Save button and logins through Account Kit. One thing came to mind…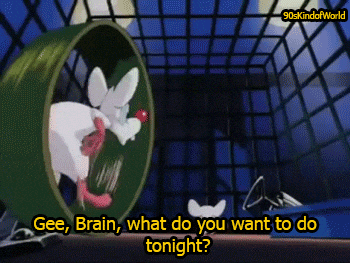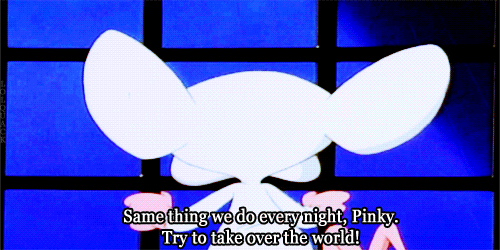 Facebook is definitely Brain, ready to take over the world and we are all Pinky, waiting to hear what we are going to do next. Take a look at what was rumored to be addressed and what actually was announced during Facebook's F8 conference, a lot of these changes are going to have an impact on your marketing strategy. 
Big Announcements
1.Video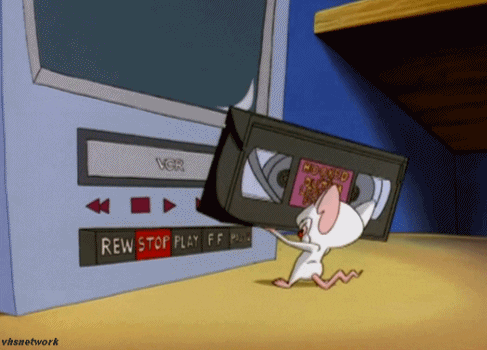 Rumor: Last week Facebook released a major enhancement to Facebook Live with the addition of a new dedicated tab to watching video within the Facebook mobile app. We can expect to hear more about what is planned for Live as well as 360, especially since VR and the Oculus product are new rollouts from Facebook.
Announcement: It is clear that video is Facebook's future, from their opening keynote addressing Facebook's 10 year plan by Zuckerberg to the creation of their own 360 degree video camera (no they are not getting into the camera business but they are opening its API) to basically dedicating much of day 2 to VR and Oculus content.
360 Video
Facebook created 360 video for people to enjoy a nearly VR experience without any equipment needed (or you can purchase the Oculus Rift for $599 for the full effect) right in their Newsfeed. There are 3 ways that Facebook suggests you use 360 video for content:
Satisfy curiosity– Take people somewhere they can't go. An example being the Golden Globes, sure people see the red carpet through broadcasting celebrity interviews but they don't see what happens behind the scenes.
Put people in thrilling situations– Take people on experiences they may not want to go on themselves. An example being extreme sports, yeah I want to see people ski dangerously down a mountain but no I don't want to do that myself.
Create empathy and awareness– Nonprofits and news organizations can use 360 to shine a light on what is happening in the rest of the world. 
Live Video
Facebook recently rolled out Live to everyone. Live video receives 10x more engagement than recorded videos and is now the preferred video on the Newsfeed algorithm.
Bring people closer to personalities– If you have a celebrity working for your brand this is a great way to bring them to your audience and for your audience to experience them in a different, more real way.
Provide a raw perceptive– Fox went Live during their Presidential Debate commercial breaks to show what the room looked like, to talk to their moderators and give viewers a peek into backstage moments. 
Generate excitement for broadcasts– Networks are having cast members watch their episodes and stream their reactions through Live on Facebook to give fans access to their favorite show's actors and actresses reactions.
Connect to experts– This is a way for lots of people to have access to "experts" in fields they are interested in.
Go deeper into the story– Newspapers and magazines (and really even online content) only have so much space to deliver a story. So journalist have taken to Live to go deeper into their story and continue the conversation online.
Just in case you missed it, the new Live features include:
Better creative tools behind the camera

Video is now integrated into the new Search tab so discovering content is easy

You can "go live" at an event you have created on Facebook and stream it

The ability to replay comments after the broadcast has ended

Filters

Doodling abilities

Live reactions

Live polling 

Send an invitation to a friend so they can watch with you

Live drone connectors

Instant replay abilities

A camera fit for live shooting, 

Mevo

gives you the illusion you are shooting from multiple cameras when you are just shooting from one

Opening the Live API to developers
Facebook has also taken into account that people may be using your video content as their own and you are not okay with that. Through their new Rights Manager platform, you can protect content by uploading all your video content and setting permissions for who can use your content and then report on those who are but should not be, as well as outscoring management, monitoring and protection through the Rights Manger API.
Another interesting side note thrown into the presentation is that Live should not be used for promotional purposes as they want Facebook users to enjoy the content and people do not enjoy being directly sold to. They recommended using product placement or having some type of sponsor for your video event. For example, if you are using Live to show a recipe being cooked make sure you have the ingredient packages you want people to buy dominantly displayed in the video and maybe even include the companies names in the title such as "Kraft Presents".
Video on Facebook was first rolled out in 2007 and was a button that was nearly impossible to find, in 2013 Facebook revisited video with the addition of the auto-play feature, in 2014 we saw the Ice Bucket Challenge launch video into mainstream sharing and now there are nearly 500 million people watching videos on Facebook a day. A lot has happened in nearly a decade and as Product Management Director, Fidji Simo said they have just reached the first 1% of video capabilities on Facebook.
2. Messenger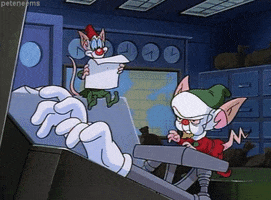 Rumor: With Kik technically beating Facebook to a bot store we know the introduction of bots in Messenger will happen during the conference. We also think Facebook will address how businesses can utilize Messenger more in delivering information to Facebook users. The one things we aren't too sure of is if Facebook will address these "ad" or "marketing" on Messenger rumors.
Announcement: Messenger Platform has officially launched and with that came the introduction of bots on Messenger. Although Facebook never called it a "bot store" they did open up their Send/Receive API and the approval process for bot creation to everyone. With nearly 1 billion people using messenger and 50 million small business now actively a part of Messenger you can tell that Facebook will continue to shift people's perceptive of Messenger from person-person communication hub to consumer-business transactions and interactions platform. 
Messenger Send/Receive API: This API will support sending and receiving text, images and CTA buttons. With this, you are also able to set up welcomes messages to users when they first opt into the Messenger experience and continue conversations from there. 
Bots: Bots were talked about at great length since this was where much of the excitement for Messenger stirred from. The most interesting part of the bot discussion was how much they referred to bots as having conversations, inferring that these experiences need to be as human-like as possible in order to work. They also revealed that businesses will have the ability to use both bots and real people in Messenger communication. The integration of both was highly encouraged as the bot experience in Messenger will be new for both users and businesses.
CTA Buttons: Call-to-action buttons are also being integrated into Messenger so that users don't even have to type anything at all. CTA's can appear with images and other text and are there to make the message more interactive and less textual for the Facebook user. You can give consumers several options for what they might want to explore when making a purchase or requesting information.
Replacing Email & SMS: Facebook plans to eliminate the need for businesses to email or SMS consumers. They are rolling out a Customer Matching feature that lets you match phone numbers with Facebook profiles (although there is a one time fee of $99 to use this feature) so you can bring the conversation to Messenger. There is no more searching through emails and having to save them in certain folders, scrolling through texts to find the latest update- the whole conversation between businesses and users will be saved in one place through Messenger.
User Experience: The user will have easy access to turn this feature on and off as well as block it altogether. Facebook knows Messenger is opening a door into private conversations that every user may not be okay with. Users are encouraged to report misuse and there is absolutely no ads or promotions allowed within Messenger at this time. They did say they are testing sponsored messages for the future but as of now they are focused on building a rich and organic experience for the user.
Honorable Mentions
3. Facebook Pages
With 50 million small businesses using Pages and with over 1 billion people on Facebook visiting those pages, Facebook does not think you need to make your own app for your business. Pages are crucial to a businesses discovery on mobile. During the conference, Facebook said several times that 1 in every 5 minutes on mobile is spent on Facebook and that could be time spent finding your business through Facebook Pages. With the rollout of the Messenger Platform, Facebook Pages also got a boost.
CTA– Call-to-action buttons are getting a facelift with bigger, bolder and brighter colors and a more prominent location. They are also opening the API so page managers are able to make more specific buttons fit for their business and the actions they want users to take.
Industry specific sections– This part of Pages will be customized so users can easily find content related to the business, whether it be merchandise, menus or videos.
Improved page layout– They are also making tabs represent those specific sections listed above, resulting in Pages being much easier to use. 
Reply privately– When someone has left a message publicly on your page you can now reply with a private message thread to better service the customer over social.
Away message– Pages now lets you set an away message for up to 12 hours so users know you are not available to reply to messages if they have contacted you during that time. This does not affect a businesses response rate or time calculations that appear on their page, so there are no penalties for using it.
Instant reply– Can be used with or without the away message feature. This is the first message users will receive when they contact your business through Messenger.
4. Quote Sharing
Now that we are consuming so much content on mobile it is pretty normal that you might find a quote from an article or book outside of Facebook that they would want to share with your Facebook community. Quote Sharing now makes it easier to share quotes on your Timeline and even add your own comments when sharing it on Facebook. Along with being an upgrade for Facebook users, publishers are also able to build a Quote Share button directly into their content which could potentially drive more traffic back to your content.
5. Save Button
I know I use the Save button a lot for content that is shared on my Facebook Newsfeed that I either want to keep forever or save for another day. The new Facebook Save button now allows users to save content from all over the web. Hopefully, Facebook will provide insights in the future for how many times and where your content was saved from which could guide your content strategies in the future.
Wrap It Up
Snapchat recently announced they want to be your communication hub with their new app upgrades, then with Kik's bot store rollout they were quoted as saying messenger apps are the new web browser but with Facebook's announcements from F8 it is clear they are the app that is going to do it all. Facebook is going to be the place you discover, share and save content, communicate with friends, family, and businesses, make purchases, store your login information and connect with all sorts of people, experiences, and events through video. Facebook is not just trying to take over the world, it is clearly Facebook's world and we are all just living in it.
What was your favorite announcement from F8? What do you think will have the biggest impact on the marketing world?
Click Here To Subscribe To Our Blog