School supplies barely clear the holiday section before inflatable snowmen, walls of lights and gift guides fill our favorite retailers, news feeds and email inboxes.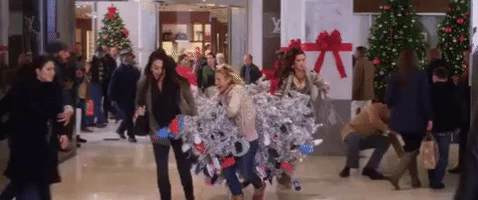 And if you're a marketer, especially in the e-commerce arena then you are starting to feel the heat. As you are finalizing your brand's marketing strategy and campaigns for the holiday season you need make sure you have covered the five tips listed below.
Click Here To Subscribe To Our Blog
1. Impacts To Your Ad Budget
You have to remember your price for a click on your digital ads will go up, and it's not because you are doing anything different.
During the other 9 to 10 months of the year, you weren't competing with a lot of these big ad budgets; retailers will have from November to December. They know they only have so much time to get in front of their consumers and are going to do whatever it takes to make the sale and reach them through every channel, on every device. Even if you aren't in the commerce space the price of your ads could go up since more brands are fighting to show their ads that overlap with your targeted audience. 
2. Keep Listening
Just like Santa is always checking who is on his naughty and nice list, so should you. After rolling your holiday promotions, gift guides, ads, and sales, you need to pay close attention to what people are saying about you and your competitors. When setting up keywords to listen to don't forget to include holidays outside of Christmas, like Thanksgiving (grocery stores) Hanukkah, Kwanzaa,  maybe even New Years if you're a clothing retailer or restaurant. 
Click Here To Learn More About Converge
3. Get Ready For The Abandoned Cart
You won't like this, but the truth is 99% of website visits will not purchase on their first visit. For this very reason alone you need to be ready to retarget people who leave your website. Whether that is a segmented email list and campaign, a Facebook Ad, Google AdWord Ad, or a mix of everything listed above.
It's now easier than ever to attract people back to your website. Just look at the options to retarget a website visitor through display advertising: 
All visitors who visited your site during a given period of time

Visitors who landed on a particular page

Visitors who did not convert

Visitors who abandoned their shopping cart before making a purchase
If you are working within a limited budget make sure to target those people who looked like they were going to make a purchase, the cart abandoners mentioned above. Get those ads fired up and that email sent with an extra discount or incentive to hit the purchase button soon. 
4. Brand It
It's important to keep your holiday message consistent- especially if you're planning a campaign that spreads across digital media platforms. Not only will this help with the workload for your marketing team but also help the customer identify you through all the other noise.  When you create a consistent visual for all of your channels and sites, it ensures the consumer remembers who you are and what they were looking for when they were visiting your site. 
5. Customer Care
Your customer needs to be front and center in any marketing campaign and when you hear or see something wrong coming across your digital networks. Customers don't like calling your helpline, and they especially don't want to call it during the holidays. Look for top-of-mind questions coming through on Twitter, a Facebook comment or direct message, or even by an Instagram direct message. Being able to address those questions and concerns quickly might mean putting more people on social to ensure it is done right but it's worth it. Afterall you never know how helping a  can lead to some "free" marketing from a happily surprised customer. 
Wrap It Up
And most importantly test and collect data. I am sure there was something you learned last year that changed how and what you are (or aren't) doing this year and that same thing will happen during your 2018 holiday campaign.
Capture all the data you can, at every point in the sales journey and include offline data as well. The more you can learn about your customer's behaviors around the holidays the better you can personalize your marketing strategy to them. 
Good luck this holiday season!
Click Here To Learn More About Converge